Ever wondered why every woman takes at least one snapshot of her back when in a wedding? Part from the blouse designs, we women absolutely love those colorful and vibrant latkans and tassels. After all, latkans are the most fun part of a blouse and lehenga, right?
So when it comes to your wedding, we understand that you want everything to be perfect, even if its a tiny latkan. So here is a list of 25+bridal latkans that are trending in this wedding season.
Talk Of The Town: Customised Bridal Latkans
If you are a bride-to-be, you must have scrolled through millions of professional wedding pictures taking a note of the fresh trends then you must have seen these customized latkans and your to-be's name embroidered on your latkan is surely going to make your bae smile. You could also go with a witty message on your latkans.
Co-Ord Is The New Trend
Gone are the days when you had limited options in latkans in plain gold. Bless these designers who came up with these amazing co-ord latkans to match up with your gorgeous lehenga. We absolutely love this idea, what do you think?
Royalty Never Goes Out Of Fashion
These heavy latkans with the tiny elephants and the metal and bead work speaks volumes about your impeccable taste in fashion. After all, nothing can make you look regal as much as these gorgeous little latkans.
Tassels To Perk Up Your Lehenga
Those fine, colorful  silk threads brought together by tiny jewels and metals might look very simple but when this tiny bundle of sheer elegance does absolute magic when teamed up with your bridal blouse. More so, you can play with multiple colours to make your outfit for vibrant and colorful.
Mirror Adorned Bridal Latkans For An Authentic Look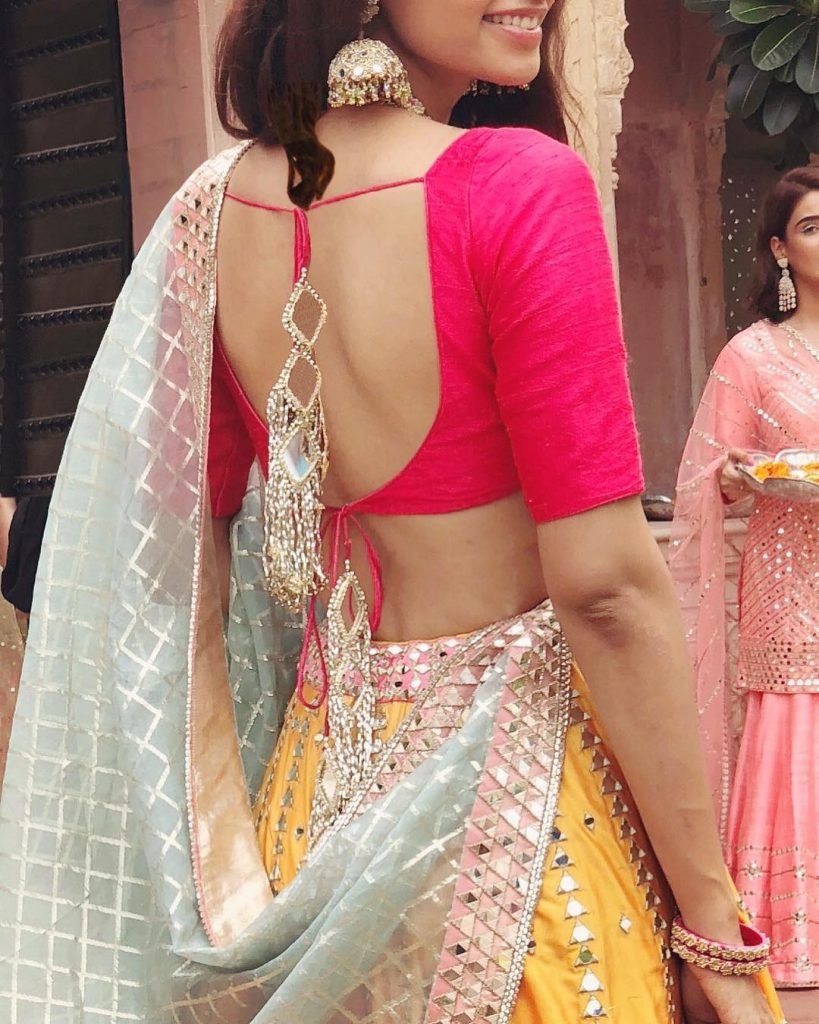 A fresh break from the usual beads and tassels, these mirror adorned latkans with these striking metal chains give you an out-and-out authentic look laced with elegance. It goes well with mirror work lehengas and sharara that are trending hot now on Instagram. (Have you checked out Abhinav Mishra's mirror work collection?)
Potli Latkans For The Win
With all these new trends flooding in, our old players have leveled up big time. With multi-colored clusters and serene pastel hues, potli latkans have made a huge comeback and are now a must have member for your bridal trousseau
Dreamcatcher Latkans For Your Dreamy Wedding
Looks like your favorite dream catcher got a brand new voguish twist. Yes ladies, for your dreamy wedding, we have brought to you these quirky and stylish dream catcher inspired latkans with a sophisticated mirror to perk up your blouse's fashion quotient.
Make A Statement With These Quirky Bridal Latkans
If the usual trends and styles does not satiate your lust for fashion check out these quirky chariot and cycle styled latkans. You could also incorporate latkan with something closer to your heart like birds or cage. Whats so special about them? Well, you dont get to see them on every second wedding picture and the fact that they undoubtedly stylish did succeed in convincing us, what do you think?
So this was our specially curated list of 25+ bridal latkans that are trending in this wedding season. So tell us your favorite design and which one you plan to choose.
All the best!