Sat Sri Akaal couples! So the dates have been finalised and you are super excited for the big day. So how about you amp up your wedding album with some tashan filled Punjabi style pre wedding pictures? We understand you might be confused about where you should go what you should wear and what's currently in trend, but don't worry. We got you covered!
We have brought to you 25+ couples who looked glamorous in their bold and beautiful desi pre wedding shoot that you should totally take inspiration from!
Bring Out Those Cars & Bikes With Full Tashan
When you bring a car of bike into the frame your couple photo automatically escalates to a power couple shot. There is a different level of charisma and swag associated with them that automatically amps up your entire picture.
Step Up The Desi Factor With Traditional Outfits
What is that one thing apart from the mind-blowing locations that make Punjabi styled pre wedding shoots this attractive? Any guesses? Its the outfits! The authentic traditional outfits with matching accessories adds loads of desi glamour to your pictures that's just unbeatable!
Its Never OTT When It Comes To Romance
What is the whole idea behind getting pre-wedding shoots done? To capture the love and romance between the couple right? So for your Punjabi style pre wedding shoot, let the love between the two of you come out and take over the picture, no matter how cheesy it looks to the others.
Make Her Feel Special
Go on your knees or lift her in your arms, Bollywood has given us innumerous ways to show your love for significant other. So if you want her to flash a real smile for your pre wedding shoot, make her feel loved!
How About A Classic Sardar Sardarni Pose?
We all know that the style and class of an authentic sardar-sardarni couple in unbeatable. So why not bring that into your Punjabi style pre wedding shoot, right?
Whats A Punjabi Couple Without A Farmland Backdrop
The costumes, the hairstyle, the accessories, all for what? To bring out a full on Punjabi feel to your pictures and what can possibly scream "I am Punjabi" louder than authentic khet and greenery? Bring it on guys!
Anything That's Desi And Romantic Is A Big Yes!
In case you are confused about where to start for Punjabi styled pre wedding photography, lets break it down. All that you need is something that screams Punjabi! And something that brings out the love between you and your bae and you are all set to have the most adorable pre wedding pictures ever just like these couples!
Let The Lights Do The Magic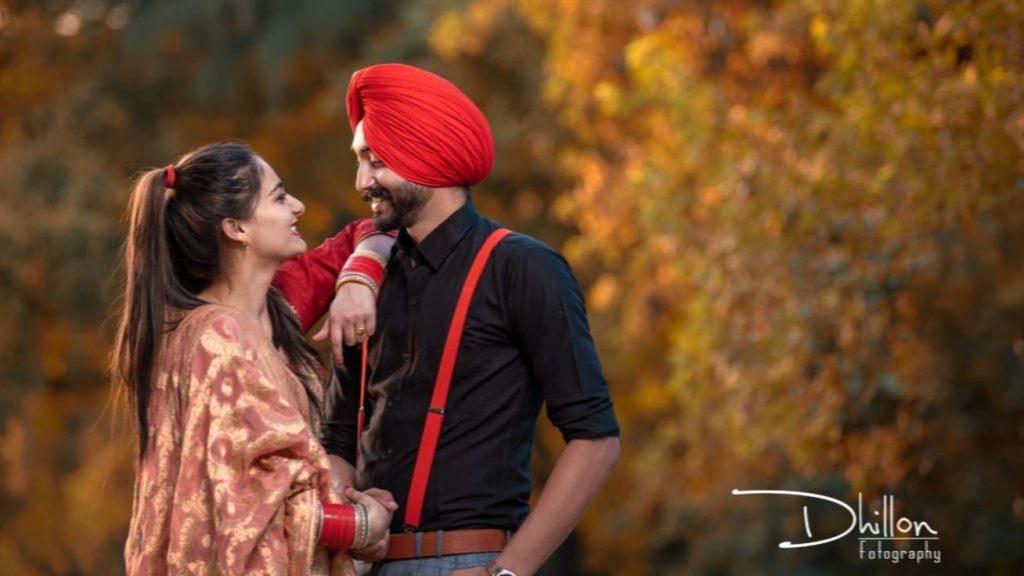 You know when nature takes things in their own hand the result is sure to be beautiful. We spend so much on artificial lights yet when natures plays it up with lights and colors, that's when magic happens.
So these were the Punjabi style pre wedding pictures that has pour hearts. Tell us which one is your favorite in the comment section below!