Muslim Brides have always had a variety of alluring nikah dresses to choose from for their wedding. From salwar kameez to lehengas to gowns to sarees, the list of categories is endless. However, with a big variety comes the burden of having to make a choice in an extremely confusing situation. So how does one pick the right outfit for their Nikah?
Well, we've got your back with trending Nikah dress colours and ideas that will not just inspire you, but also steer you in the right direction. Also while you're at it, check out our other post on Nikaah Outfits.
So what's the wait? let's get started right away!
The Magic Of Powder Blue Dresses
Powder Blue Dresses and Shararas have been all the hype in the past two years and with good reason! This colour paired with intricate details can make any dress look ethereal and make any bride look like she has walked down straight from the gates of heaven. This minty fresh colour looks good on anyone and everyone, so don't worry and explore it.
For more designs, check out: Powder Blue Lehenga for your Wedding Board in 2021
Pink And Peach Dresses Are IN
Baby pink, millennial pink, dusty rose, bright pink and peach: this entire family of colours can make any bride look worth more than her weight in gold. These bring out the peachy undertones of one's skin and bring a pure and playful look. They aren't always cutesy though. Dresses in colours can range from adorable to absolutely graceful and elegant. So if you want a beautiful girly yet playful look for your Nikah go pink! Go with lighter pinks if you have a darker complexion and brighter if you are fairer and make sure the tone of the dress matches your skin. Cold with cold, warm with warm.
White and Other Pastel Dresses
White is the colour of purity and has been one of the biggest Nikah dress trends for a while. Moreover, white will highlight the gorgeous dark brown henna on your hands, letting them stand out. Alternatively, you can also go for other pastel colours which will provide the same effect, since pastels are also ruling the trends of 2021. If you have a darker complexion, you should DEFINITELY give whites and pastel colours a chance, as they will highlight your gorgeous dusky skin.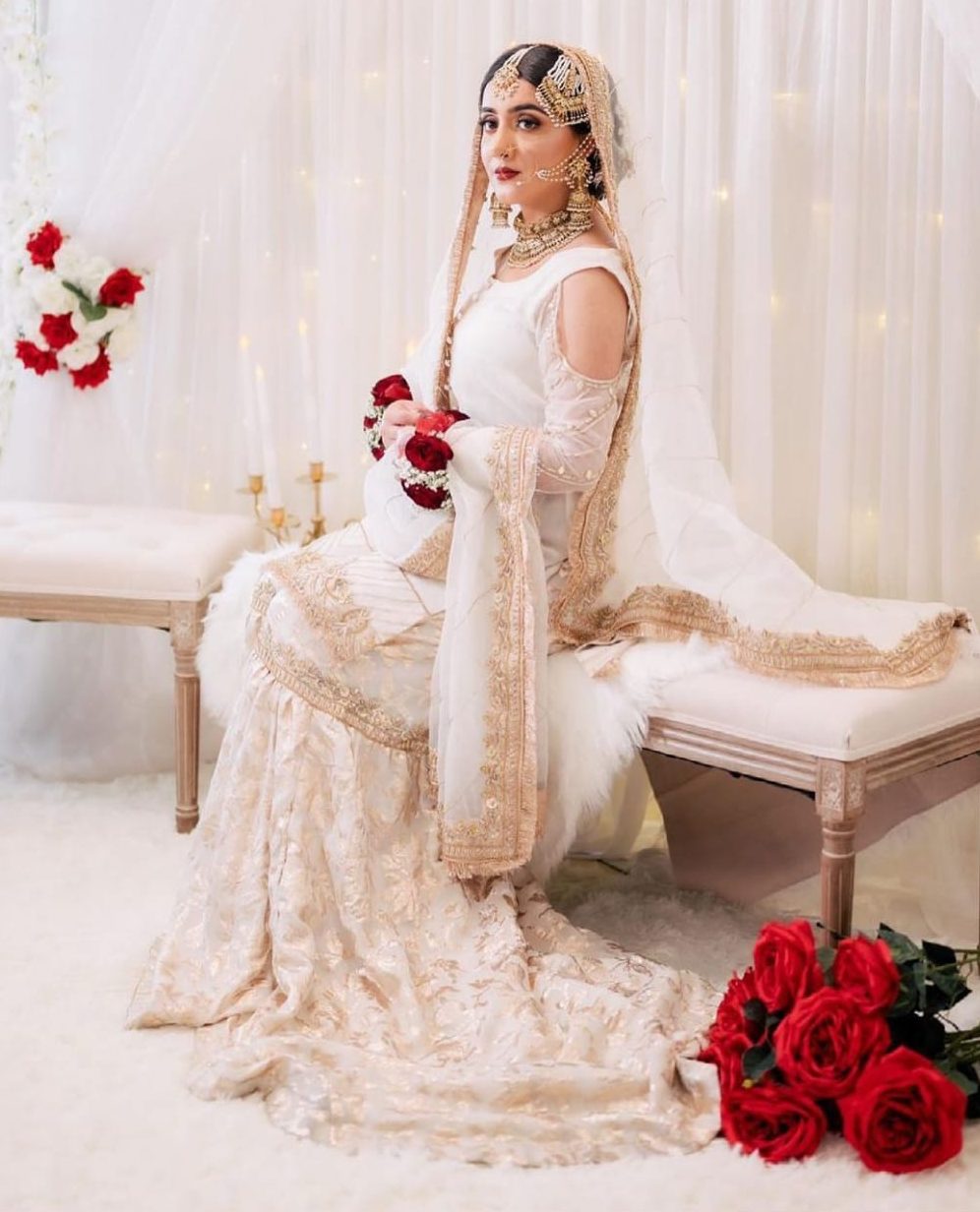 Look Bold In Gold dresses
Gold is the classic way to look like royalty. Everything about golden outfits says elegance, poise, luxury and allure. Gold is one nikah dress colour you might want to REALLY consider if you're into Mughalai looks, as the colour adds a beautiful touch of historical elegance. Gold outfits also go with every skin colour and tone, so you're extremely safe if you go for gold. you can't go wrong.
Stand Out In Dark Dresses
Dark colours are staple in Muslim ethnic attires and never go out of fashion. If you're warm skin toned, consider dark maroons and if you're cold toned, try dark purples. Dark greens work on all skin colours but especially shine on the lighter ones. If you want to give a dark and mysterious queen vibe, you should definitely look into these.
So that was our pick on 20+ Gorgeous Nikah Dresses Trending In 2021. Which one was your favourite? Would you wear any of these for your Nikah? Let us know!