It is often said that the darker the mehndi, the stronger the bond! This single statement can help us understand the pivotal role of henna in wedding ceremonies. We understand the trouble you may go through while selecting one perfect design for yourself and therefore we are here to help you out with the mehndi design that suits you the best!
When two becomes one, we call it LOVE!
Here are some beautiful mehndi designs for our brides-to-be! These designs reflect how two become one and lead to an epitome of LOVE!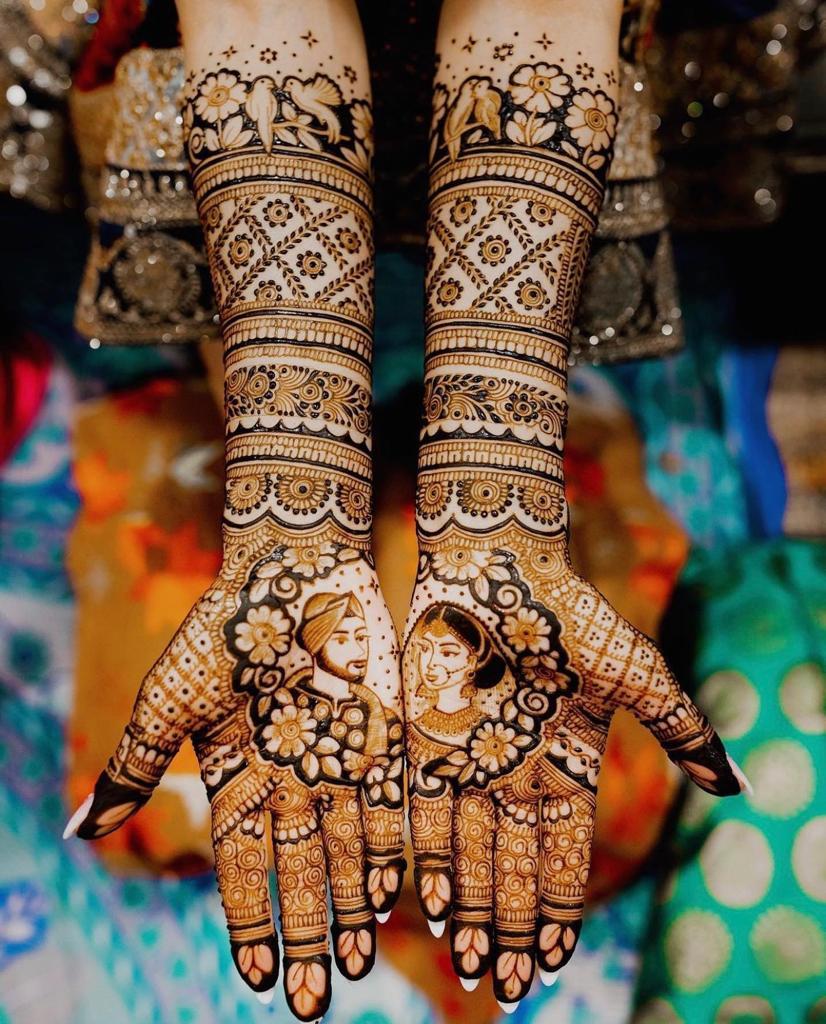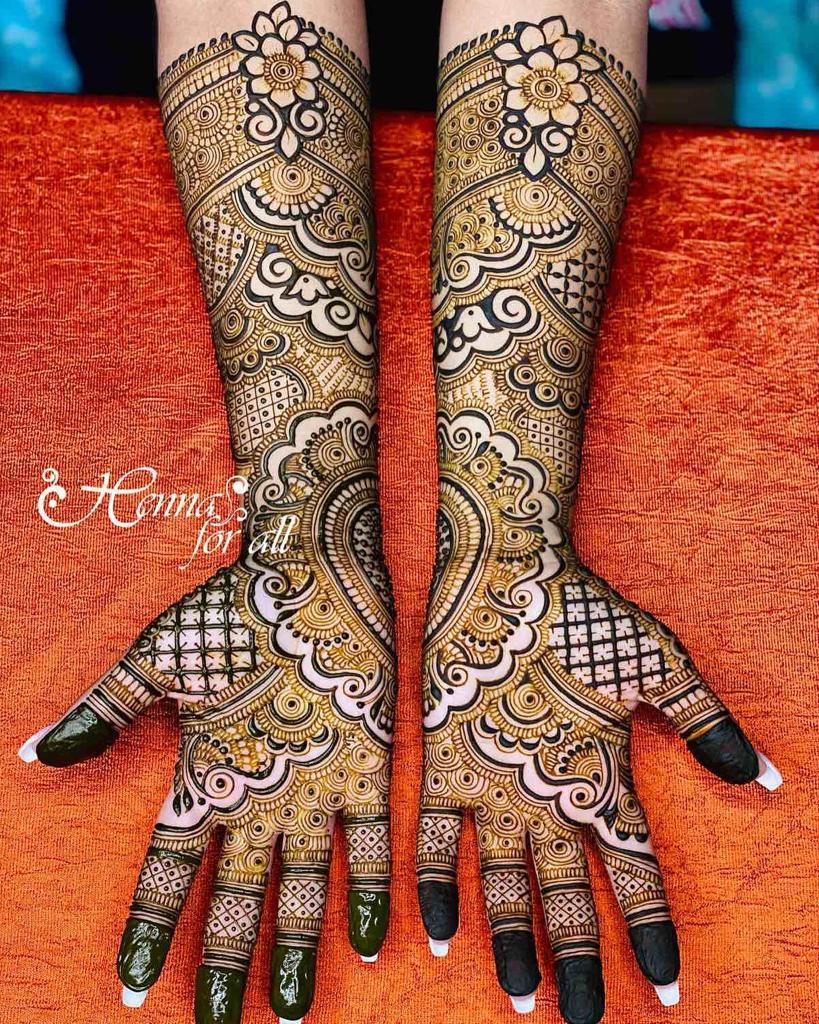 These stunning bridal Mehndi designs will surely make the groom fall in love all over again! The beauty of these designs is totally seamless. Scroll down to see other interesting categories for henna designs.
2. Mehndi designs with beautiful patterns
We are here to ensure that the bride tribe looks absolutely flawless while participating in the wedding ceremonies. These beautiful mehndi designs are something every bride should look upon so as to enhance her grace on the day of the wedding! These designs are accompanied by subtle symmetrical patterns, some iconic stories and a lot of beauty altogether!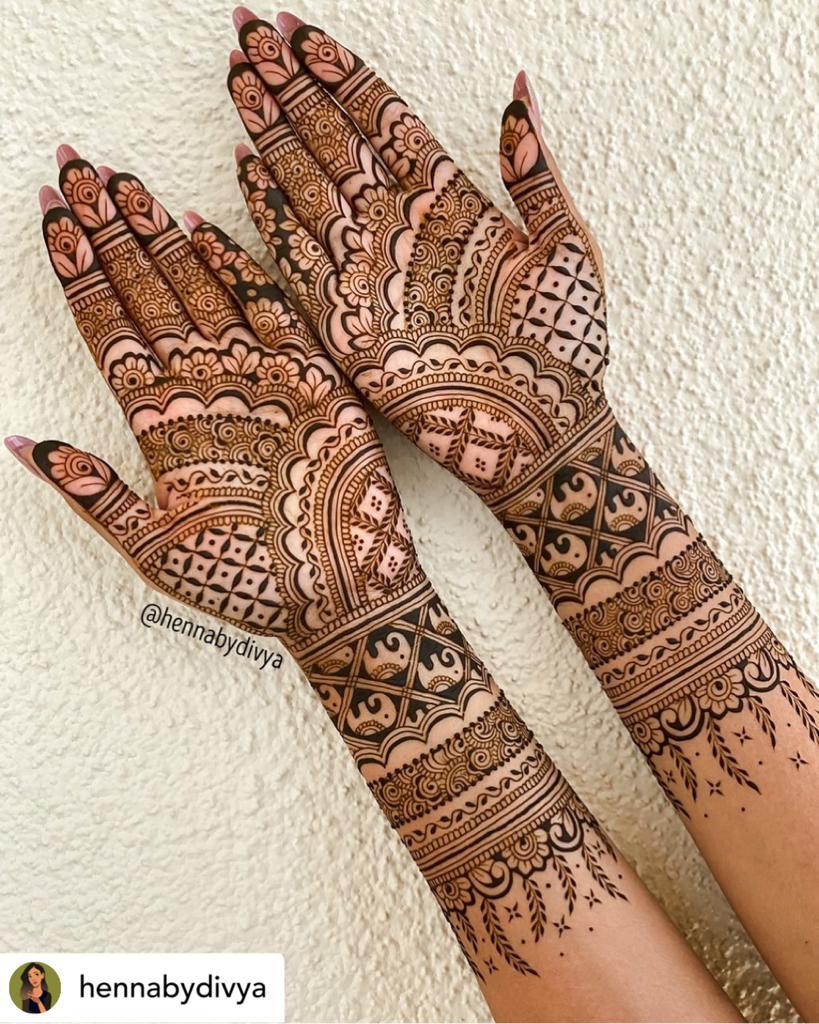 We believe you are just as mesmerised by seeing these wonderful Mehndi designs by the amazing Mehndi artist Divya. Now let's move forward to our next category!
For more Floral-mehendi-designs click on the link
3. Romantic Portrait Mehndi Designs
Express your love by getting your beau's portrait drawn on your hand through the beautiful Henna. Make your mehndi even more memorable through these amazing designs. Sharing a few spectacular ways through which you can get the portraits done.
Give personalize tough in your mehndi, for more ideas tap on this link Personalised Mehndi Designs
4. Mehndi designs to adore bride's pretty feet
When we say the bride is looking gorgeous from head to toe, we literally mean it! From maang-tikka on the forehead to the stunning henna designs on the feet, everything about a bride is loveable. Sharing a few of our favourite bridal feet mehndi designs.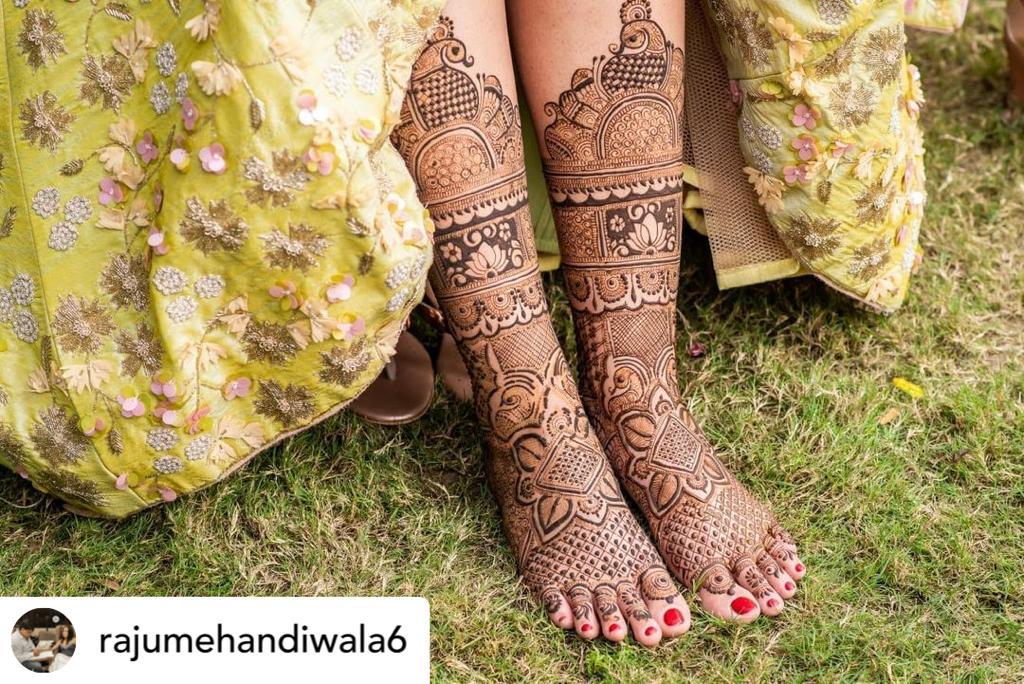 A combination of both subtle as well as stunning, these mehndi designs have everything! From beautiful flowers to the whole Baraat everything is very creatively expressed through these designs by Raju Mehandi.
For more Bridal Feet Designs click on the link
5. Bridal Mehndi Designs for Back of the hands
Our next category of designs is all about mehndi designs for the back of the hand. These designs are nothing less than PERFECT! They have beautiful patterns and are designed with absolute intricacy. Scroll down to look at these jaw-dropping designs!
Every design has its own panache! Symmetrical designs along with such a detailed style, these mehndi designs have left us speechless! Now, we shall move to our last category, for now, scroll down and explore some more pretty mehndi designs.
6. Minimal and intricate mehndi designs
If you are that person who wants to have a unique and intricate mehndi design, then this last section is especially for you! Scroll through these designs and tell us which one is your favourite.
'WOW!' This is exactly what comes to mind after one has seen so many so wonderful mehndi designs. These mehndi designs are from various superb mehndi artists who never fail to impress their audience! Get ready for the next wedding with these beautiful Henna designs and leave everyone awestruck!
You can also check these Arabic Mehendi Designs which you can apply on back of your hand.
7. Some unique designs that are truly pleasing to the eyes!
We all want something different, right?! Here are some unique designs that one must check out so as to get a glimpse of the range of mehndi designs that can exist.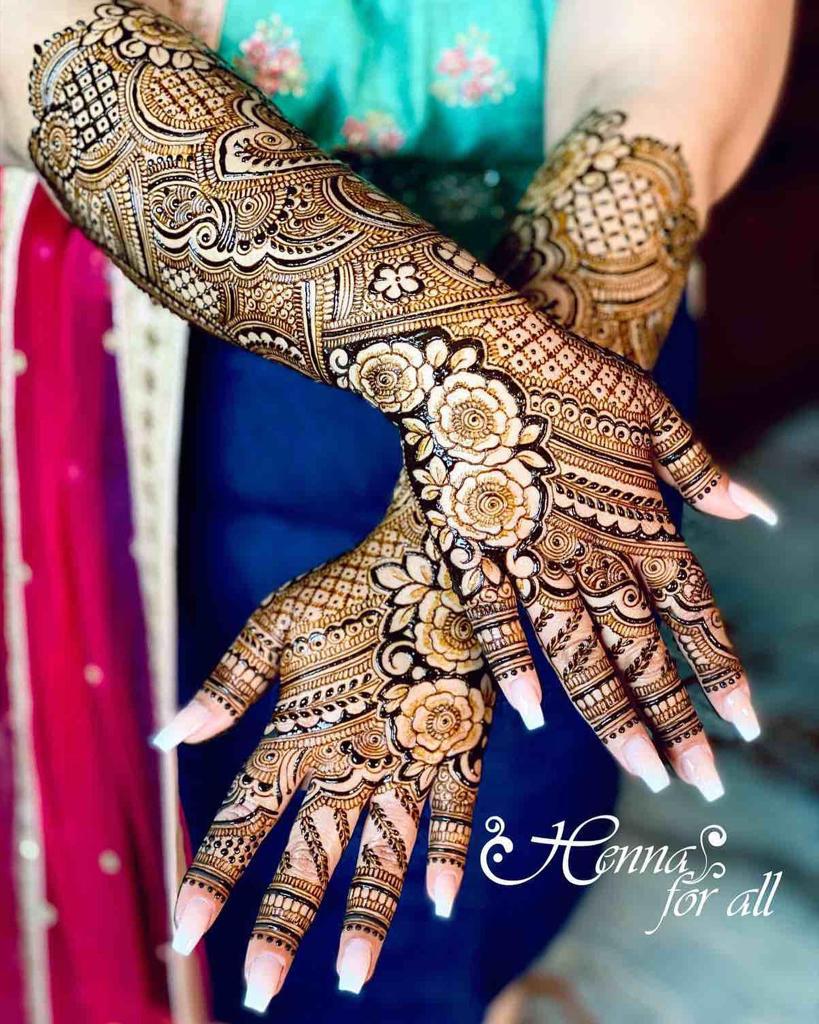 8. Minimal Bridal Mehndi Design For Feet
These designs are especially for those who want something simple and elegant. The beautiful designs below left us totally awestruck and we hope they put the same magical spell on you as well!
9. Classy and chic Mehndi designs for BRIDE TRIBE!
We love our bride tribe just as much we love our brides! Every bridesmaid has a lot of duties and we ensure they look absolutely gorgeous while pulling off all the bridesmaid duties with charm! Here are some chick designs for our lovable bride tribe.
These designs included such pretty Henna that even we could not take our eyes off from them. If one is planning to wear an Indo-western dress then these designs would make your look WHOLESOME!

10. Stylish yet simple Mehndi designs, especially for every hardworking BRIDESMAID out there!
Bridesmaid duties can be tiring and it might be difficult to take out time for henna while being busy fulfilling all the bride's demands. We are here to make your life easier with these stylish and simple designs that won't take a lot of your time!
For more designs you can see Minimalist designs and you can also explore some Mandala Mehendi Designs for Brides
11. Some pretty mehndi designs for Karvachauth Celebration!
Karvachauth is a very important festival for all couples, and mehndi is one beautiful way through which the grace of an individual gets enhanced on Karvachauth. As we have come to our second last segment, for now, we will share some creative Karvachauth mehndi ideas with you!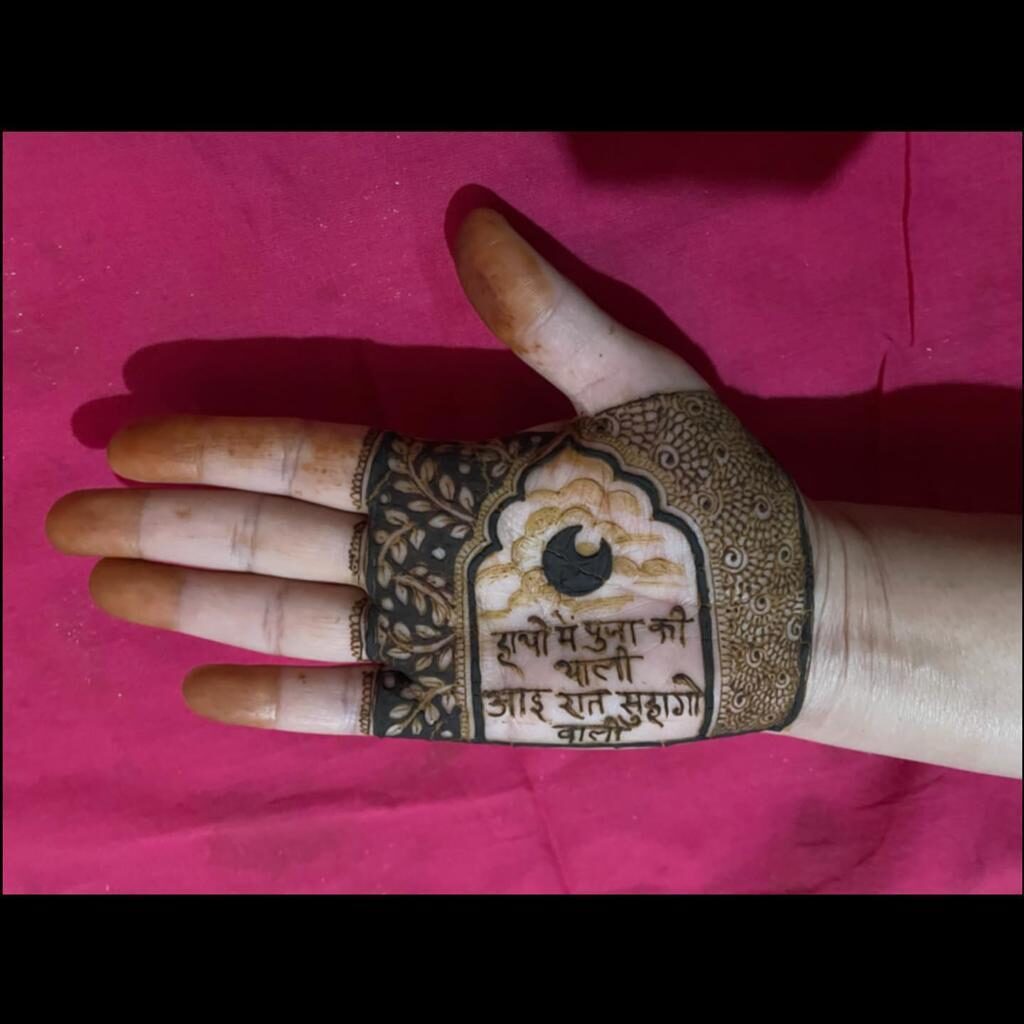 12. Mehndi designs that are perfect for every occasion!
Last but not the least, we don't need a ceremony to occur so as to get our hands adored by henna. Here are some majestic mehndi designs that can be adored anytime one feels like it!
We hope you liked these mehndi designs and found that ONE design for yourself! Shine bright throughout the ceremonies with these graceful and glamorous mehndi designs.
If you liked these designs, we are sure you will enjoy going through other blogs with phenomenal mehndi designs as well. Tap on the link and give a treat to your eyes with Minimalist designs, Personalised Mehndi Designs, Mehndi designs for kids hands and Bridesmaid Mehndi Designs!
Got A Tip For A Missing Image Credit? Email Us At wedmeplz.com