Rajasthani wedding decor include colorful and lively regional props and is not limited to the regional weddings but is used across cultures, boundaries, and in the modern weddings. You will often come across these in many Indian mehendi and haldi decoration. Rajasthan style wedding decor has set up its own benchmark in the industry because of its versatility, colorfulness, and budget friendly alternatives. We have brought some of the trendiest props ideas from Rajasthani wedding decor that you can include in your decor and theme board. Let's get started!
Bead Hangings
Carefully crafted beads are widely popular and they usually have fabric stuffed camel and elephant to accentuate the look. These long beads can replace the regular floral garlands in weddings to add a Rajasthani touch.
Puppets aka Kathputli
Kathputli is a cultural heritage for Rajasthan. These fabric dolls are handcrafted by the local artists and can be used for different purposes at a wedding. You can use them as a backdrop with photo booth, hanging decor at entrance and you could even organize a fun little puppet show at the wedding.
Embroidered Umbrella
These umbrellas are adorned with mirrors, embroidery, colorful fabrics, and pom poms to create an attractive look. You can use them everywhere from the photo booth, food stalls to stage backdrop, mandap decor, and more.
Guest Seating
A Rajasthani wedding decor usually features a traditional khatiya(bed), cushions with Rajasthani work and embellishments, umbrella and tents with small motif prints, and cane chairs and ottomans for wedding seating arrangements.
Bangles & Kaleera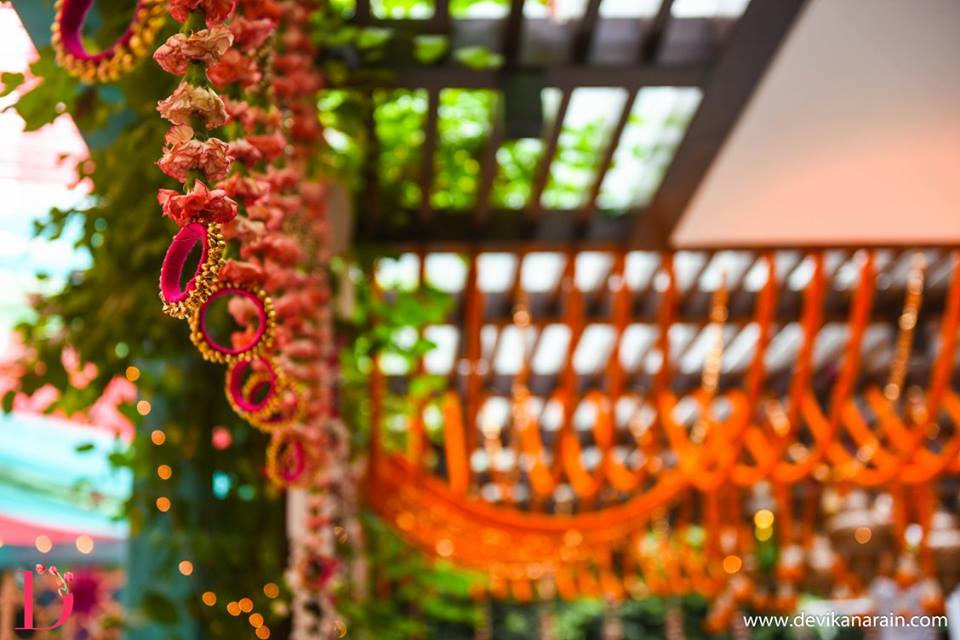 Bangles are not just for your hands, they also look great as hanging decor, display items on the photo booth, and much more. You can get colorful bangles to create different patterns or hang them as it is to create an interesting look. Adding kaleere to the bottoms will enhance the overall look and make it glam.
Backdrop
These Rajasthani wedding decor backdrops are very popular as they add a quirky vibe to the wedding. Guests love these installations and you can put these anywhere from the photo booth to the stage.
These colorful Rajasthani wedding decors look absolutely stunning during the day and night and suit the decor for an indoor and outdoor wedding venue. Take inspiration from the ideas and plan a fun wedding using these decors to wow your guests. Don't forget to check out other Decoration and Planning ideas for your wedding.