Wedding stage decor ideas are the most important aspect of planning as it is the location of numerous photographs which creates memories of a lifetime. Since we know how important this is, we are here to help you. There are so many choices when it comes to the stage decor. From floral to traditional, heavy lighting to sober lights, it can get confusing as well. Exploring some amazing options might help and yes, it is always better to stick to a theme.
Check out some amazing stage decor ideas and plan your royal wedding!
Gorgeous Purple Stage
This wedding stage really looks gorgeous from all front, isn't it? The floral artworks, the cascade-like chandelier the curated drape work, and the pink lighting at the back make it truly mesmerizing. Exchanging rings on this stage is sure to be a memorable experience.
Lights and Ivory elegance
An elegant and exclusive wedding venue in the offering. The floral artworks and the lights truly make this decor look stunning and elegant. A dream sequence follows as the couple sits here for the first time.
Unique and extravagant
The green garlands decorated in tandem against a white background make this wedding stage truly attractive. Sharing your feelings with your partner after tying the knot is sure to be a great experience.
Amazing floral stage
The floral artworks of red, white, and cream truly make this stage look inventive. The chandelier, lighting's and drapes add up the extra zing factor to this dignified stage decor.
Mesmerizing mirror works
The props, drapes, and imitation designs with floral touch-ups truly make this wedding stage look mesmerizing from all fronts. The couple is exposed to an experience of lifetime grace and tranquility as they are seated here.
Pretty as a picture
Floral artworks and designer drapes in the background truly make this wedding stage picture perfect. Rituals conducted here are sure to be graceful and authentic.
Lovely and subtle
The authentic lights, floral artworks, designer light in the floor, and the overall setup truly make this wedding stage look lovely and graceful. The couple is exposed to a serene ambiance sitting on the sofa of this decor.
Red and sparkling
The color combination of red, crimson, white, and golden truly makes this stage look discerning. The floral artworks and stunning sofas add up its glam quotient.
Pretty purple and white
A solemn open stage for the wedding is in the offering. Flowers used as props and light truly make this decor solemn and majestic. The couple tends to feel bountiful grace once here, in this piece of decor.
Magnificent blue decor
An excellent exhibition of color and light. A scintillating wedding stage that has class inscribed in it from all angles. Your wedding celebration is sure to be a grand affair with this stage as one of the aspects.
Majestic Walima Decor
This wedding stage is a mind-blowing piece of art in itself. The couple sitting here is sure to feel a subtle ambiance of grace and divinity. The golden artworks, chandeliers, and floral works are a class apart.
Leafy and floral decor
A classy piece of decor which is sublime yet distinguished. All flowers, drapes and chandeliers used are a sublime work which add value to the artwork of this wonderful decor.
Green and royal open-stage
A truly distinguished wedding stage in an open area. Wonderful designs and floral artworks make it pleasing to every eye. A unique experience for the couple is in the offering as they plan their future schedule sitting here.
A majestic wedding stage
A sequence created by floral artworks truly makes this wedding decor look majestic from all fronts. Expensive chandeliers, lighting's and gorgeous draperies used are sure to make your wedding a majestic celebration.
Red florals and lights
Artistically designed background truly makes this wedding stage a grand aspect. Designer sofa sets add up its glam quotient. Feel the subtle grace with your partner here in a blissful atmosphere.
The striking golden yellow dome
The layout of this wedding decor is striking in all aspects. The red, golden dome created in the background by the flowers used in sequence with the lighting makes it truly magisterial.
Creative artwork and roses
The flowers used along with art pieces and golden drapes make this decor a truly stately work from all fronts. The majestic sofa's are stately as well which is sure to take the couple to a state of subtle ecstasy as they take off for their journey of life.
Pretty pink and flowers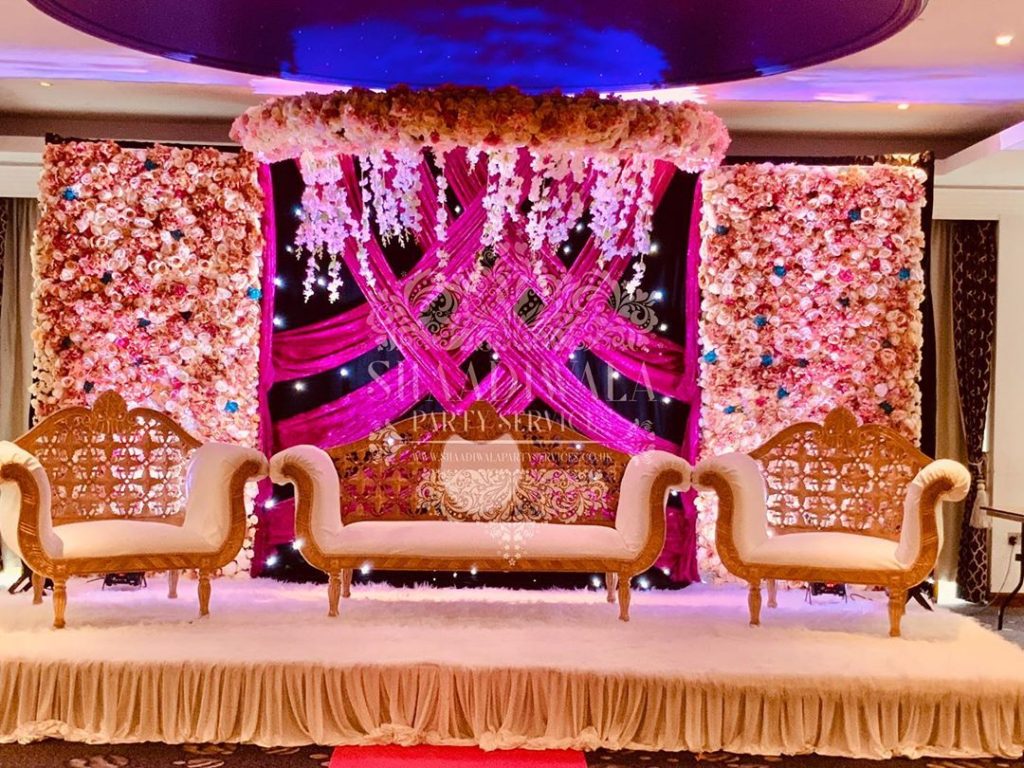 A flamboyant exhibition of color and light. The artworks are designed meticulously which makes this decor so eye-appealing as well. Your wedding is sure to be a grand celebration with this decor as the wedding stage.
White and blue decor
The color contrast of white, silver, and green with traces of saffron makes this decor a lively piece of work. The excellent layout of drapes at the background adds to its overall glam quotient. This stage is sure to be a major piece of attraction for your grand wedding.
Classy and vibrant
Welcome to a traditional yet vibrant wedding stage. This all-white stage is class apart in style and presentation. It is sure to be the major talking point of an expensive royal wedding.
Spectacular red and lights
A wonderful piece of decor in red and sparkles. The red color depicts love, trust, and bondage which is the essence of any wedding. The couple is sure to get fascinated by this piece of art.
Golden and glittery
The wedding stage is simple yet sophisticated. Drapes and lighting are the hallmark of this decor. The floral artworks are stunning as they add up to its sophistication.
Picturesque wedding stage
This picturesque wedding decor in purple shade is truly glamorous. The flowers and sparkles add to it's extra zing factor making this decor so prominent. Your wedding is sure to be a grand celebration with this wedding stage.
Plan a fairy tale wedding with some floral mandap ideas and floral entrance decor. You can also check out some unique bar decor ideas for your wedding!